The spray painting aircraft maintenance dock for Hainan Airlines
Shanghai Ifly GSE has provide completely set spray painting dock for Narrow body and wide body
type to Hainan airlines ;the Narrow body type is for A320/A321/B737 series, the wide body is for
A350/A330//B787/series.
the completely set painting dock include : nose dock ,wing dock,fuselage dock and tail dock.
Technical Requirements:
1.The spray painting aircraft maintenance dock meets the construction requirements of the A320/A321/B737 series fuselage and
the bottom of the wing (including the engine and the wingtip) area, and meets the requirements for the use of paint fade protection;
2. The ladder frame is divided into three layers, which can cover the belly, fuselage and back area of the aircraft, with two
channels designed;
3. The nose dock and the fuselage dock are connected, equipped with a large wing dock, the platform can be raised
and lowered. The carrying capacity of the entire span-wing bridge is 400KG, and the carrying capacity of the farthest end of the
bridge is 125KG;
4. Each platform needs to be equipped with a garbage collection rack, and the platform is covered with steel mesh;
5. The top of the fuselage ladder frame is designed with a paper reeling machine and a film reeling machine, and a ladder frame
item lifting system is designed to meet the requirements of production and use of paint fading protection;
6. The wingtip ladder is designed to lift and move along the wing direction of the small wing ladder;
7. The platform is equipped with tow bars, safety supports, wheel clamps and anti-static grounding stakes.
This 3D drawing for A320/A321/B737 series spray painting aircraft maintenance dock: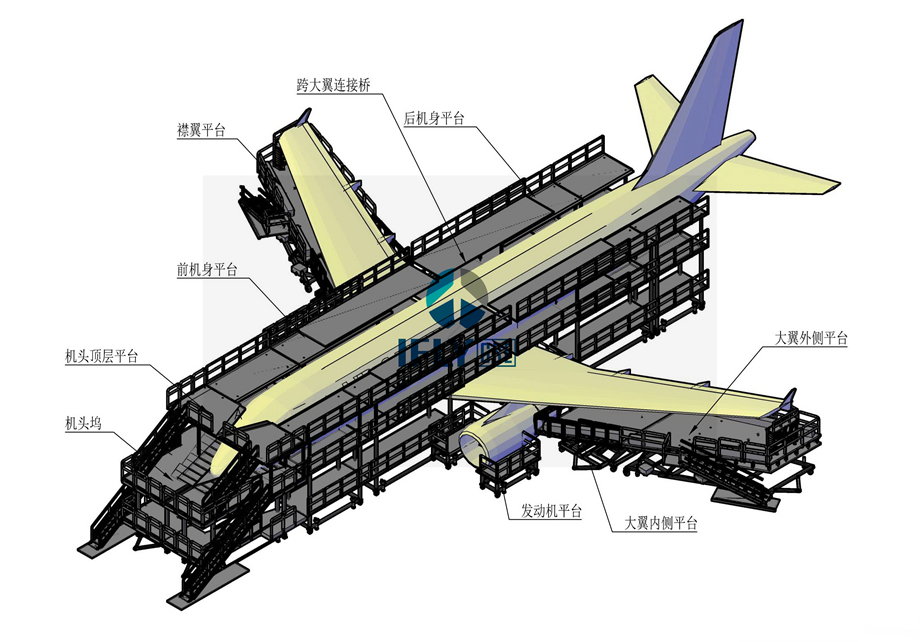 Technical Requirements:
1.The spray painting aircraft maintenance dock meets the construction requirements of the A330/A350/B787 series
fuselage and the bottom of the wing (including the engine and the wingtip) area, and meets the requirements for the
use of paint fade protection;

2. The ladder frame is divided into three layers, which can cover the belly, fuselage and back area of the aircraft, with

two channels designed;

3. The nose dock and the fuselage dock are connected, equipped with a large wing dock, the platform can be raised

and lowered.


4. Each platform needs to be equipped with a garbage collection rack, and the platform is covered with steel mesh;

5. The top of the fuselage ladder frame is designed with a paper reeling machine and a film reeling machine, and a

ladder frame item lifting system is designed to meet the requirements of production and use of paint fading protection;

6. The wingtip ladder is designed to lift and move along the wing direction of the small wing ladder;

7. The platform is equipped with tow bars, safety supports, wheel clamps and anti-static grounding stakes.

This 3D drawing for A350/A330//B787/series spray painting aircraft maintenance dock: